Doors:
Frame:
Miscellaneous Information:
Products: Miscellaneous Information
Download Adobe Reader HERE
Abbreviations: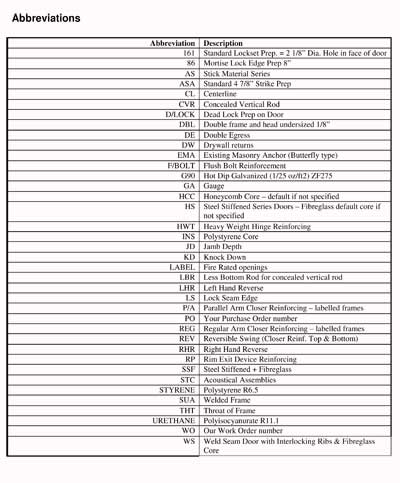 Standard Hinge Location Chart
NOTE:
Standard hinge backset is 1/4" (6.4mm) on the door and 3/8" (9.5mm) on the frame.
Standard offset is .146" (3.7mm) for standard weight hinges and .180" (4.6mm) for heavy duty hinges.
Screw hole size and location conforms to "template butt" standards only for 4 ½" & 5".
4" Hinge reinforcings are supplied blank.
Click here for a printable version of the Standard Hinge Location Charts and the Manufacturer's Warranty Certificate: